It's mid week and how are things coming along? Sharing with you Week 1 of my Project Life spread! I have quite a few people asking me how I actually do up a PL spread! So... I guess anything works? I mean in scrapbooking, if you know the basics and the correct use of space, you can almost never ever go wrong.... In addition, it's what you are scrapping about that matters right?
For beginners, I know it's pretty overwhelming stepping into a scrapbook store with so many brands, collections and designs to choose from and you don't exactly know where to start.... I have definitely been there once! My advice would probably be to start thinking about the contents than buying anything that looks nice (which very often makes us spend a hefty sum!)
So for PL, honestly speaking, I am still adjusting. I have been so used to scrapping 12X12 layouts or altered projects that making everything fit into pockets seem like a pretty daunting task :P That is also why, a part of me will never leave traditional scrapbooking :D.
Why start on PL then, besides the fact that it's a trend now? I guess that there is only that much pictures you can add into a layout and not make it look so cluttered so I love PL because I can now scrap daily moments and memories and add them into pocket sized folders that is convenient to store in large albums than finding walls around the house to hang your 12X12! And it's really what works for you! Be it adding your ticket stubs or snack wrapper or making something really elaborate, it will never go wrong!! So take it easy! :D
The supplies you will probably need are basic scrapbooking papers (or PL core kits that are already well-cut and lovely), scraps, lots of small alphabet stickers, washi tape, sewing machine(:P) ... ANYTHING!:)
I hope this post helps though there weren't any concrete suggestions! XD Again, have fun scrapping! It will certainly look fine! Tag or share with me your supplies! Would love to see you guys capturing life's daily moments!!
This is my Week 1 PL spread: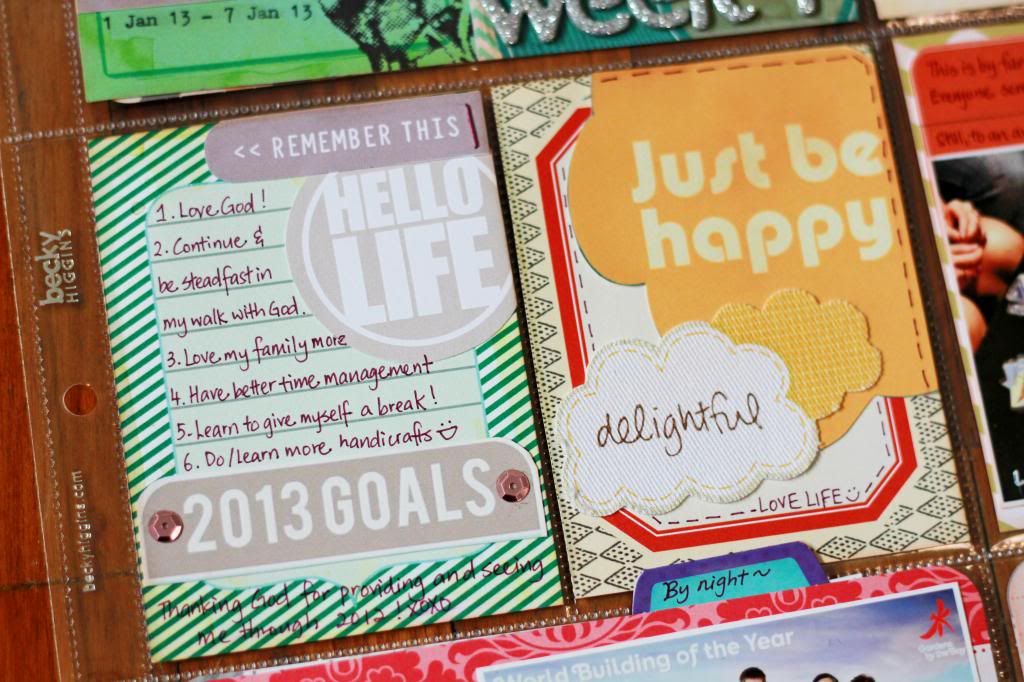 I added a small pocket at the back of the card for more photos! Try it if you can't seem to find enough space to place all your photos in a spread!
Supplies used:
- Project Life Core Kit Clementine Collection
-Various collections from Crate Paper
Most products are available from Scraplicious so head on down soon!
Enjoy!
Till my next update, take care and God bless!